« I would say rather that a true collector is basically a missed artist. The collector is characterized by the quality of his choice and by the judicious meeting of works of art. »

Emil Bührle.
Currently and to July 21, fifty seven impressionists and post-impressionists masterworks, issued from the prestigious collection of the businessman and weapons dealer Emil Bührle, are displayed at the Musée Maillol.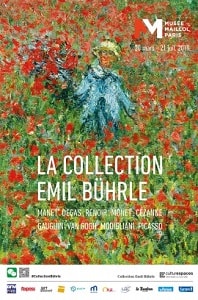 Born in Germany on August 1890, Emil Bührle studied philosophy, literature and history of art at the university of Munich, and discovered Monet and the impressionists painters in 1913 at the Berlin National Gallery. After his marriage to the daughter of a wealthy banker, he invested in the Oerlikon weapons factory and moved to Switzerland, where many collectors of impressionist art live. As a better way to integrate himself to his adoption country, he also started to collect it.
Few years before World War II, Oerlikon is supplying Germany in arms and ammunitions, whose rearmament is prohibited in accordance with the Treaty of Versailles, a status that in 1945 will be worth to Oerlikon to appear on the « black-list » of the Allies. In a couple of years, he would increase his fortune and injected it in the acquisition of works of art.
To assist and advise him in his acquisitions, Emil Bührle, well-known from the art-dealers because of his many purchases, is frequently working with several merchants, such as Fritz Nathan, fled from Munich to settle in Bâle, or Franck Lloyd.

World War II will see emerging thousands works coming from a doubtful origin, and often stolen from Jewish collector and art dealers. With its « neutral » status, Switzerland looked more prompt to welcome within its territory the stolen jewish collections instead of the Jewish themselves.
In 1942, 125 works considered as « degenerated » will be auctioned at the Fisher's Gallery, in Lucerne, Switzerland. Emil Bührle will purchase 10 of them, among The reader (« La liseuse ») from Camille Corot, and Before the departure (« Avant le départ ») from Edgar Degas, both stolen to Paul Rosenberg in Paris. Probably displayed in the Martyr's Room (Salle des Martyrs) at the Jeu de Paume, thirteen stolen works, certainly bought in good faith, will reached the Bührle's collection.
« I know that in Paris, my goods are stolen, and that they will probably find asylum in Switzerland, where that they can disappear better. All this will be solved at the end of the war and I hope to find them again ».

Letter from Paul Rosenberg to Walter Feilchenfeldt, 1942.
After World War II, as soon as he understand the provenance of these works, Emil Bührle returns them to their owners, and when it is possible redeems them immediately.
With more than 600 works after his death in 1956, of which 103 acquired only in 1954, the Emil Bührle's collection includes Venetian masters and the Dutch Golden Age as well as Impressionists: Paul Cézanne, Edouard Manet, Henri Fantin-Latour, Auguste Renoir, among whose works is the magnificent Portrait of Irene Cahen d'Anvers, confiscated in 1942 for the benefit of the Goering collection, Amedeo Modigliani, Paul Gauguin, Vincent Van Gogh and The sower, sunset, inspired by Millet and dating back to the artist's Arles period, one of Bührle's major acquisitions, André Derain, Vlaminck, Eugène Delacroix, the romantic admired by the Impressionists, Henri de Toulouse-Lautrec, to whom Emil Bührle devotes a fascination almost without bollard, the nabis Bonnard and Vuillard, Pablo Picasso, discovered lately and who enters his collection in 1953 with The Italian, or The field of poppies near Vetheuil, from Claude Monet, one of the four paintings stolen during a robbery at the Bührle's Foundation in 2008.

La collection Emil Bührle, until July 21 at the Musée Maillol, Paris.
This column is also available in french.
Around the exhibition:
– La collection Emil Bührle (French)
, by Lukas Gloor. Gallimard. 188 pages. 47,00$.
More about:
– Lost lives, lost art: Jewish collectors, nazi art theft, and the quest for justice
, by Melissa Müller and Monika Tatzkow. Vendome Press. 256 pages. 33,54$.
– Museum of the missing: a history of art theft
, by Simon Houpt. Sterling Publishing. 192 pages. 38,61$.
– Hitler's art thief: Hildebrand Gurlitt, the nazis, and the looting of Europe's treasures
, by Susan Ronald. St Martin's Press. 400 pages. 16,99$.
– The lost museum: the nazi conspiracy to steal the world's greatest works of art
, by Hector Feliciano. Basic Books Publishing. 340 pages. 19,99$.